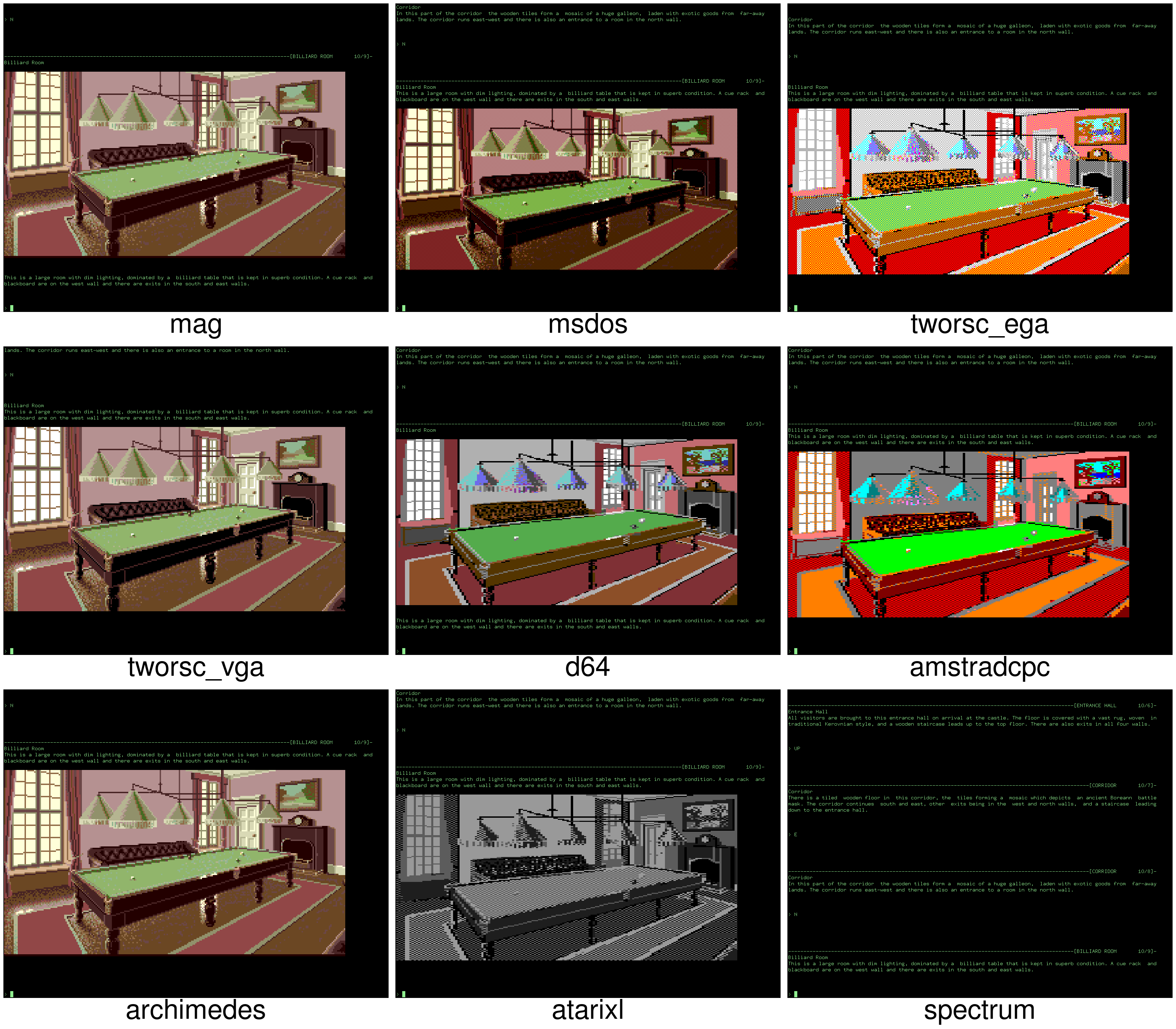 ]Hey guys. I just found your thread. (Vanity & google... you know...
)
So, being a big fan of Magnetic Scrolls Games, i can tell you this much: Their releases shared more or less the same story files. That is what you can find in the .mag files.
Inside is the game code for a virtual machine, that was based on the 68000 processor. Knowing where to find the machine code within a port allows the interpreter to run the game.
So for dMagnetic i created a loader module, which extracts said game code and creates a .mag file internally.
In my next release i will add a command line argument with which you can dump this .mag into an actual file (and also load it with ScummVM, as long as you update the MD5 sum of course.)
The GRAPHICS are in there as well and can be dumped as a .gfx file. But this format differs CONSIDERABLY between different platforms. (Just have a look at the picture up there. ) Imagine it as the C64 releases using .png, the Amiga .jpg, the PC .bmp and some of them .gif. And .gfx is just a container, like a .zip file.
The Magnetic 2.3 only supports .gfx files with pictures in two releases: the one from the Amiga and the one from the magnetic scrolls collection. But since it is possible to run a game with the .mag from the C64 and the graphics from the Amiga, this is not really a problem. Just an aesthetic mismatch.
My Interpreter can handle more. (C64, acron, archimedes etc... NOT the Amiga or the Spectrum QL, due to the fact that those machines had a physical 68000 CPU, and the game code ran natively on them; including some system calls to draw the graphics, for example. Those are hard for me to emulate.)
Anyways: i encapsulated the loader pretty good, so it might be possible to put it into ScummVM.
As for the GLK: I found this Interface way ro restrictive. I was not able to implement the graphics formats, for example. Which is why i stopped supporting it.