Moderator: ScummVM Team
Yep, working great for music now

Thanks a lot
Posts: 10
Joined: Tue Sep 13, 2016 4:51 pm
For that "stripping" I suspect some floating point rounding issues, but it might be related to z-buffer as well.
Please, can you try to run "draw zbuf" in debug console? it should render zbuffer instead of color.
I was trying to get amigaos 4.0 working with winuae & ppc qemu plugin, but i was not very lucky yet.
It says
Drawing Z buffer = 1
and then displays this picture, unfortunately, ego is still behind the objects.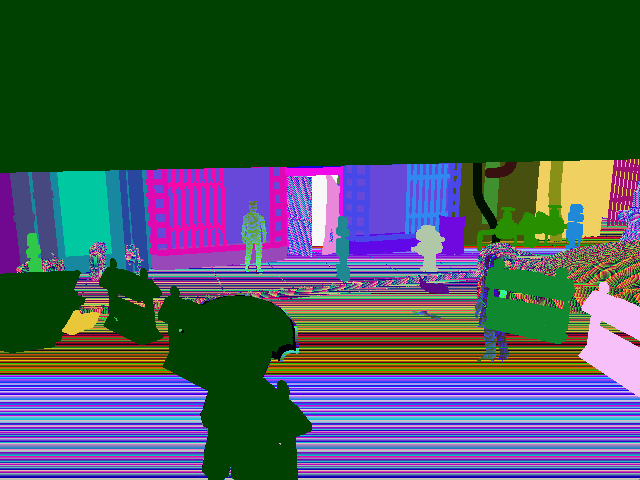 If i could help you with the OS4 installation, just shout, otherwise throw those debug builds at me

Posts: 10
Joined: Tue Sep 13, 2016 4:51 pm
....maybe it will be not needed, I just did some dirty hacking, and I can get almost the same artifacts (striping on actors), looks like it related to endianes as well.
ScummVM Developer
Posts: 286
Joined: Tue May 08, 2007 8:54 am
Location: Greece
Contact:
Quick update on this one about the Big Endian platforms; The z-ordering issue along with drawing issues for images should be fixed in commits by peterkohaut (since a few days now actually), so please test and verify if you are on one of such platforms. And also report any other issues you've encountered

@Preatorian
Awesome...sound and z-ordering fixed in AmigaOS4

The new thread for ScummVM support of Westwood's Blade Runner is here:
Testing Blade Runner with ScummVM